Qu-Chi Hayfever Band ® - The Acupressure Armband
The Original Qu-Chi (pronounced Q-chee) hayfever band® has been developed by Acupuncturist Andrew Broch to apply pressure to the Large Intestine 11 (LI-11) acupoint on the elbow, known in Chinese as Quchi.
Acupuncturists believe stimulation of this point pulls energy away from the Head, nose, face and throat. The Qu-Chi Acupressure Band was created
to balance and harmonise the body's energy or Chi, and help promote a feeling of well-being.
Thousands of satisfied customers
February 5, 2018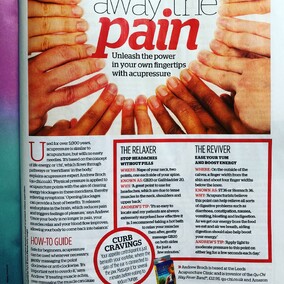 'Press away the pain!' An article I helped with in the latest edition of Fit & Well magazine about how to use #Acupressure on yourself. Whether it's for help chilling out, boosting your energy or curbing those cravings! Check it out today 😉...
read more
The Qu-Chi hayfever band® has featured on TV, national radio and in the Mail
on Sunday
| Daily Mail | Telegraph | Daily Express | Natural Health Magazine | Hello! Magazine | The Sun and many more. Take a look at our
blog
for more info
Qu-Chi hayfever band® is a registered trade mark and registered with the Medicines & Health Regulatory Agency (MRHA) as a Class 1 medical product